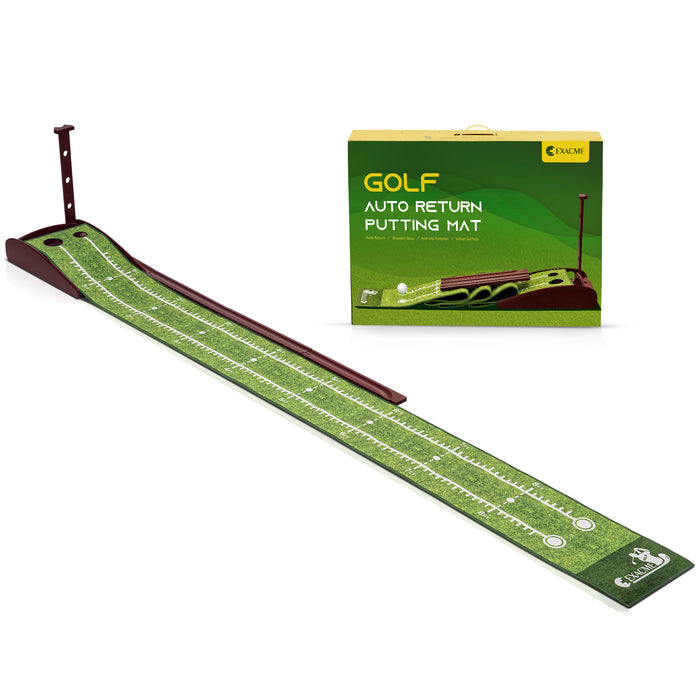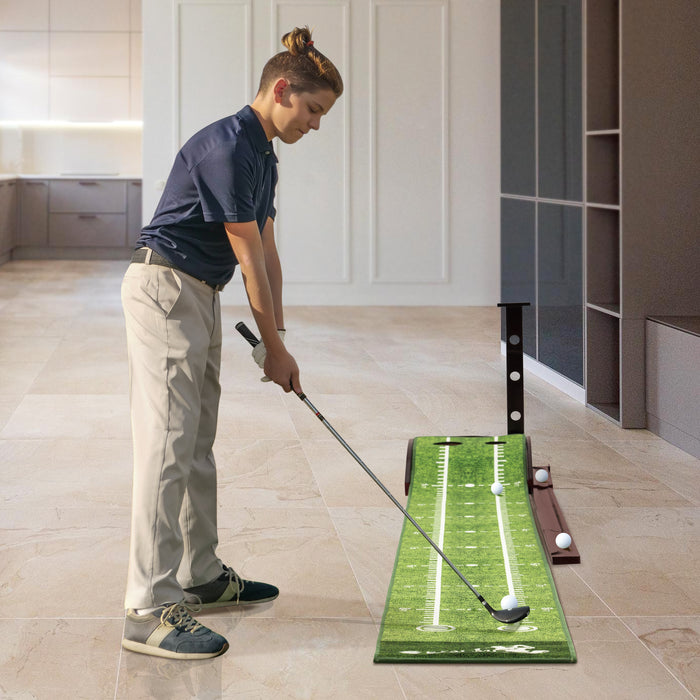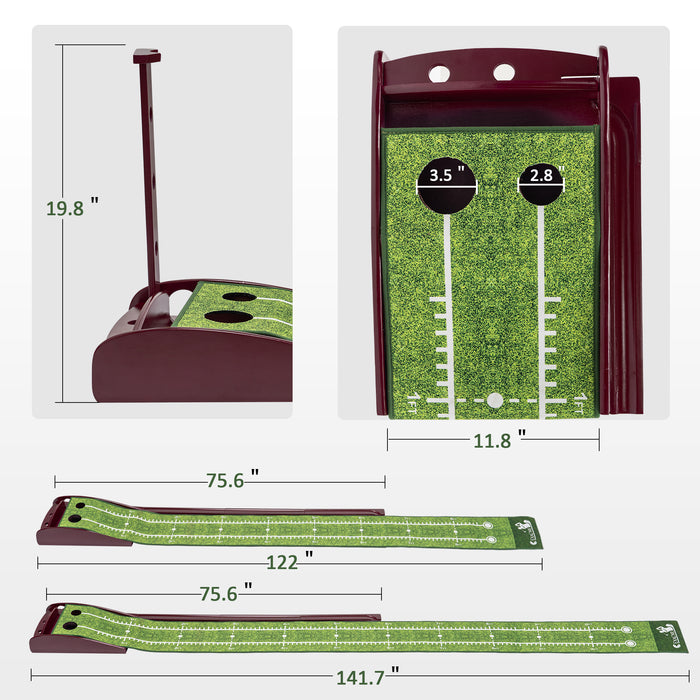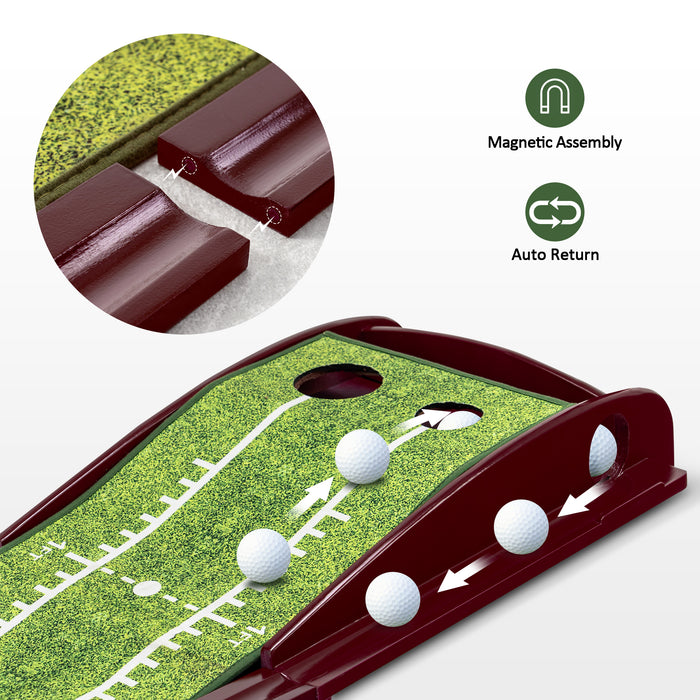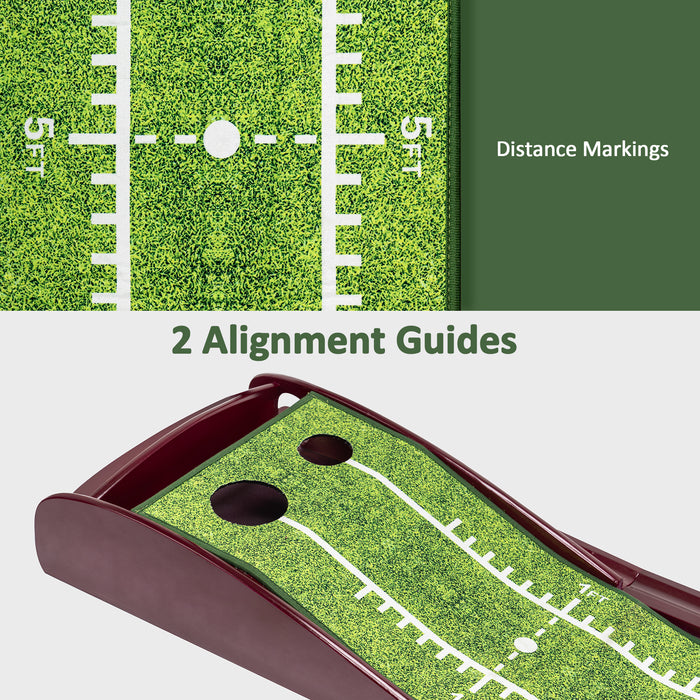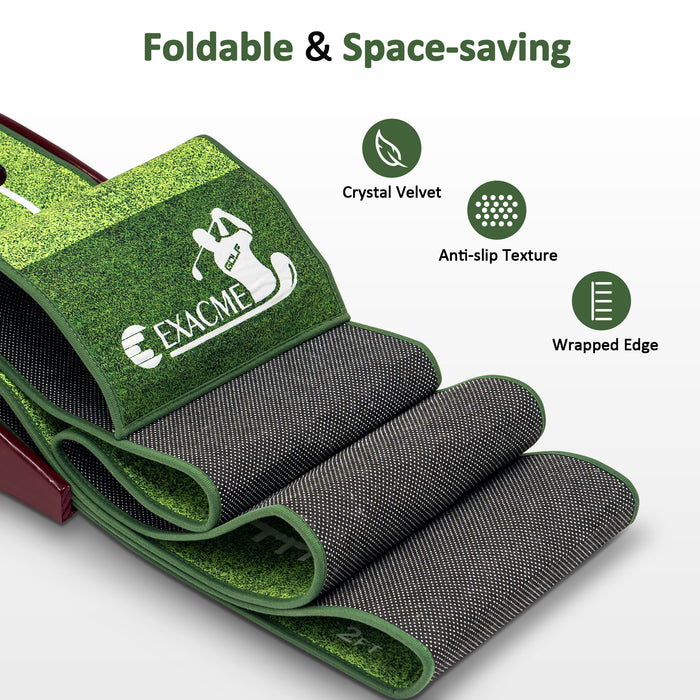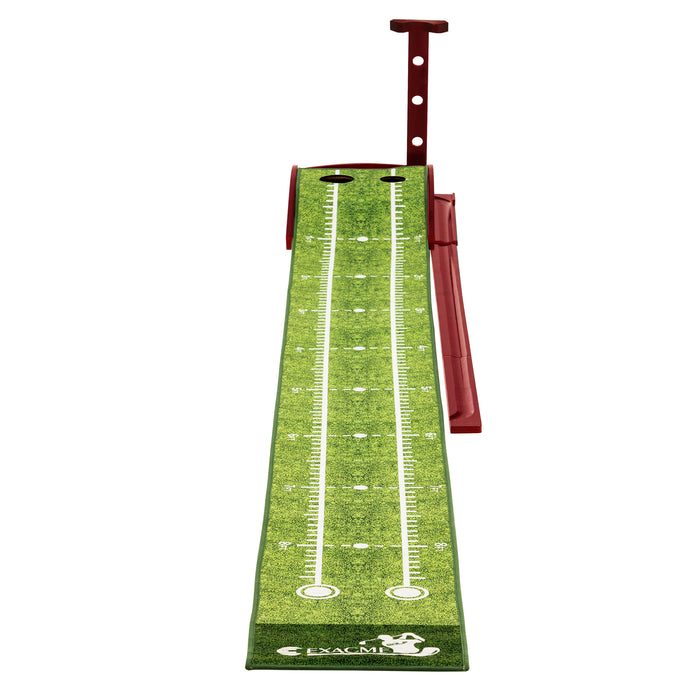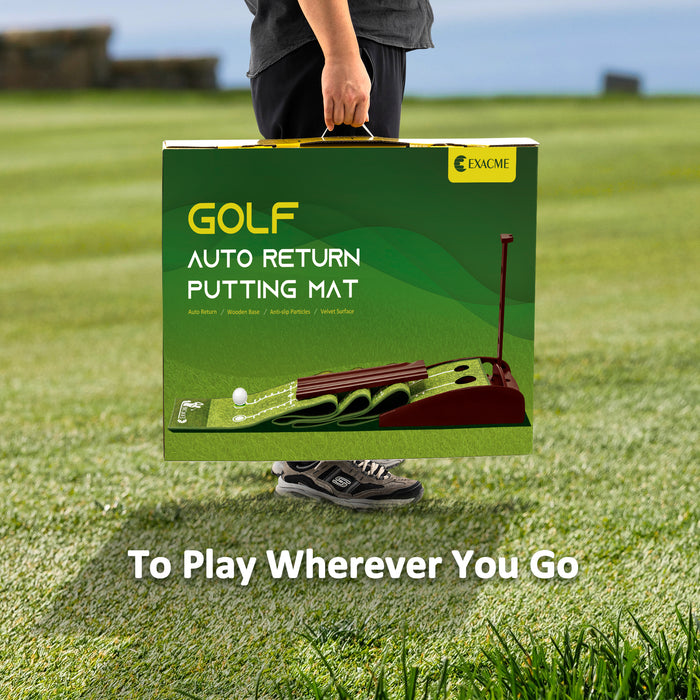 ExacMe Golf Putting Green with Ball Return, 9.8' or 11.5' Crystal Velvet Mat, Wood Base, Indoor Outdoor, GF209/GF211
Why choose ExacMe golf putting mat?
ExacMe golf putting mat set is designed for the purpose of improving accuracy and greater control on every putt.
It performs indoors and outdoors flexibility.
Comes with independent gift packaging for easy carrying, making you enjoy your putting whenever and wherever you are on travel, at home, or office.
It is a perfect golf simulator for all beginners and experienced golf player, and will be a great gift to your daddy, husband, lover, kids, and friends.
Features
[ 9.8ft or 11.5ft Long Mat ] 2 different lengths of putting green were designed to meet different needs. Each size has 2 holes, the smallest hole allows you to really hone in your putting stroke and accuracy. For starters, It increases golf putting mat practice difficulty gradually,

helps you to be more familiar with your golf course step by step
[ Wood Auto Return System ] Our putting mat with return makes balls automatically return to the mat through the "train track". So you can standstill at the end of the putting green, and do not have to move to fetch the balls repeatedly. This effectively helps you save your practice time
[ Foldable Crystal Velvet Mat ] Compared with other plastic surface turfs, the wrinkle-free thicker crystal material allows balls to roll identical and makes no noise, offering you a realistic putting experience. Non-slip backing and wrapped edges prevent fraying and curling for long-lasting use. Just rolled up against a wall to save space when not in use
[ Alignment & Distance Control ] Both sides of the golf mat features clear alignment guides at 1, 2, 3, 4, 5, 6, 7 and 8 feet key putting distances. This will aid starters in refining the alignment of your putter and feet, promoting consistency in every aspect of your putting motion
[ Suitable for right and left handed golfers ] The golf practice mat works great for right-hand players. The Lefty's can choose to stand at 7 to 8 feet mark, to allow comfortable standing over the ball
Specification
Model: 6188-GF209
Mat size: 11.8×118in
Return track length: 75.6in
Assembly dimension: 122×14.9×19.8inin
Model: 6188-GF211
Mat size: 11.8×138in
Return track length: 75.6in
Assembly dimension: 141.7×

14.9×

19.8in
Buyer Reading
Warranty: 90-day limited
Return Policy: 30-day for unopened and unused with original box
Package
1

 × 

Mat attached wooden base
1 × Putter backrest
3 × Ball return track