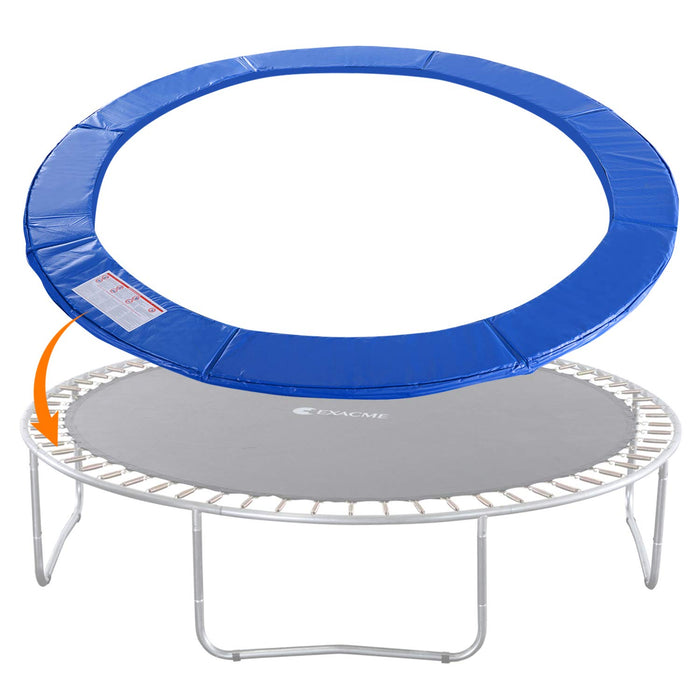 ExacMe Trampoline Replacement Safety Pad Spring Cover | No Holes for Pole 8 10 12 13 14 15 16FT Blue 6180-CP-B
Description
The trampoline safety pad is designed to ensure that the jumpers do not get pinches or scrapes if fall on the frame and springs. The safety pad is a must have to ensure your family's safety.
Feature
Color: Blue
Material: high density 18oz. PVC on top and heavy duty PE on the bottom
0.6-inch thick EPE closed-cell foam inside for shock absorbent platform
Cold crack protected, UV treated coating, ensure long-lasting use
Easy to assembly: Connecting to trampoline frame by tie straps
Fits: Round Trampoline of All Brands
         Please ensure the diameter of your frame matches the pad's size.
         No holes for poles, DO NOT fit trampoline that enclosure poles is inside the frame.
HOW to choose correct size safety pad for your original trampoline?
Step 1: Confirm the outer diameter of the frame:
             Please measure outer diameter of the frame from one end to the other;
Step 2: The inner diameter of your safety cover when it is fully assembled ;
Step 3: The pad width of your old spring cover:
            Please measure the distance from the edge of jumping mat to the outside of top rail.
Step 4: The completely unstretched Length of your springs from hook to hook
Size Details
Size
Outer Frame Diameter

Inner diameter
(assembled)

Pad Width

For Spring Length

Side Skirt
Width

Pad Tickness
8 foot
8'
6'
10.6"-11"
5.5"
4.33"
0.6"
10 foot
10'
8.1'
10.6"-11"
5.5"
4.33"
0.6"
12 foot
12'
9.94'
12"-12.6"
5.5"-7"
4.33"
0.6"
13 foot
13'
10.93'
12"-12.6"
5.5"-7"
4.33"
0.6"
14 foot
14'
11.94'
12"-12.6"
5.5"-7"
4.33"
0.6"
15 foot
15'
12.9'
12"-12.6"
5.5"-7"
4.33"
0.6"
16 foot
16'
13.65'
12"-12.6"
65.5"-7"
4.33"
0.6"
Warranty:

3-month

Package Includes
1 x Trampoline Safety Pad
Product Code(UPC)
6180-CP08B: 8429381020407
6180-CP10B: 8429381020414
6180-CP12B: 8429381020421
6180-CP13B: 8429381020438
6180-CP14B: 8429381020445
6180-CP15B: 8429381020452
6180-CP16B: 8429381020469