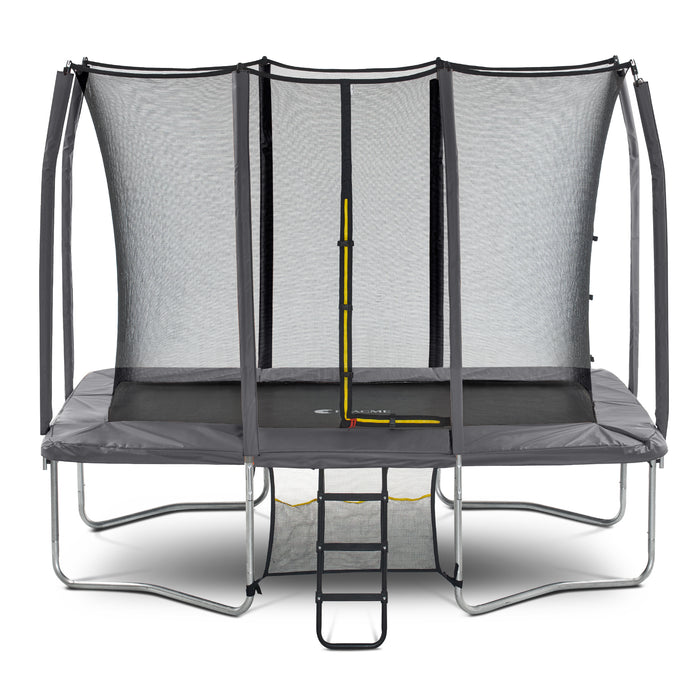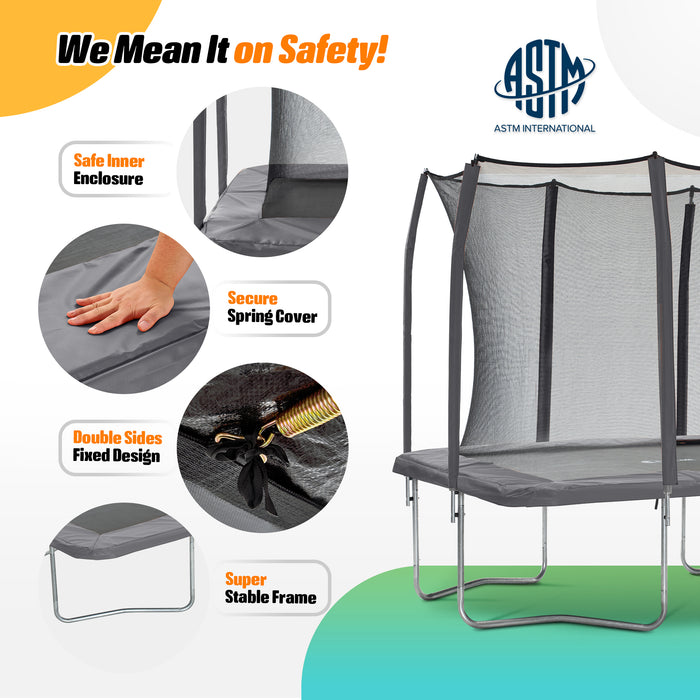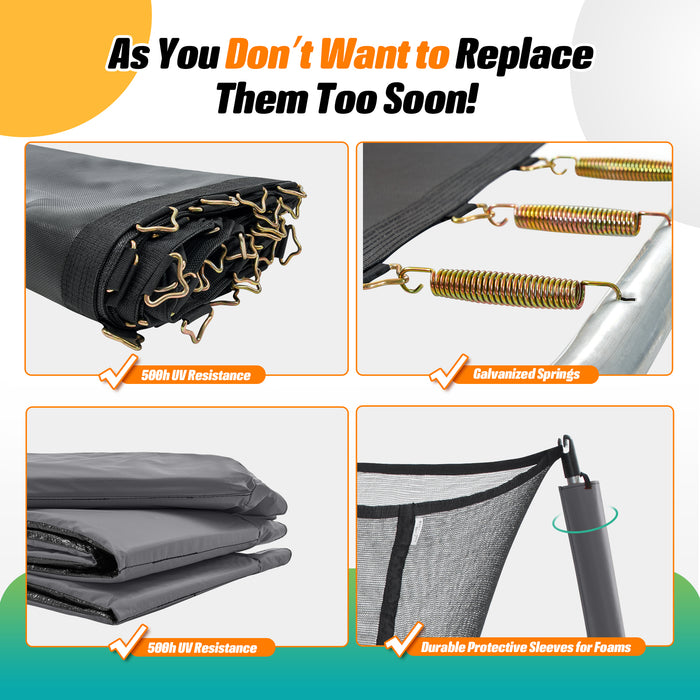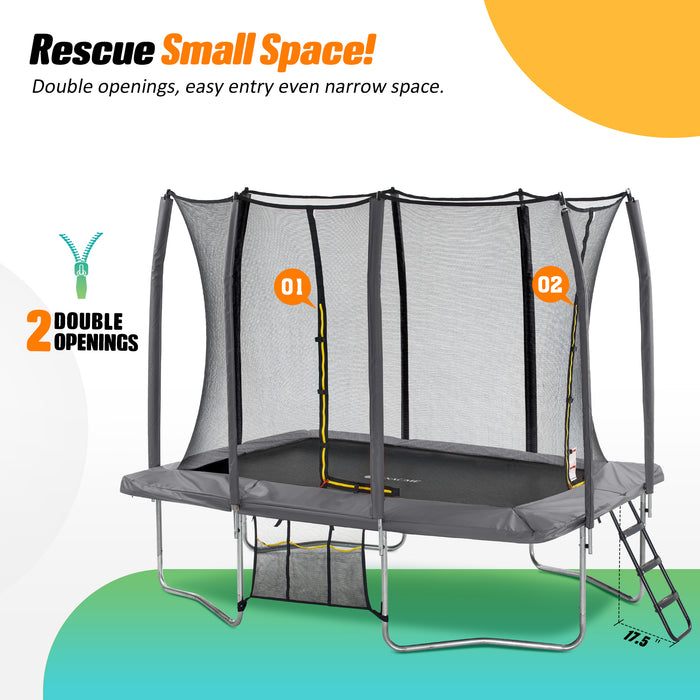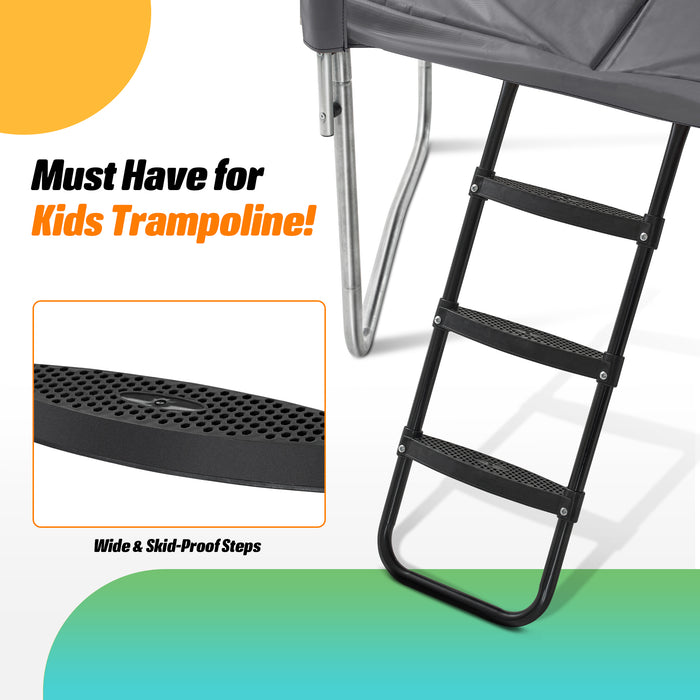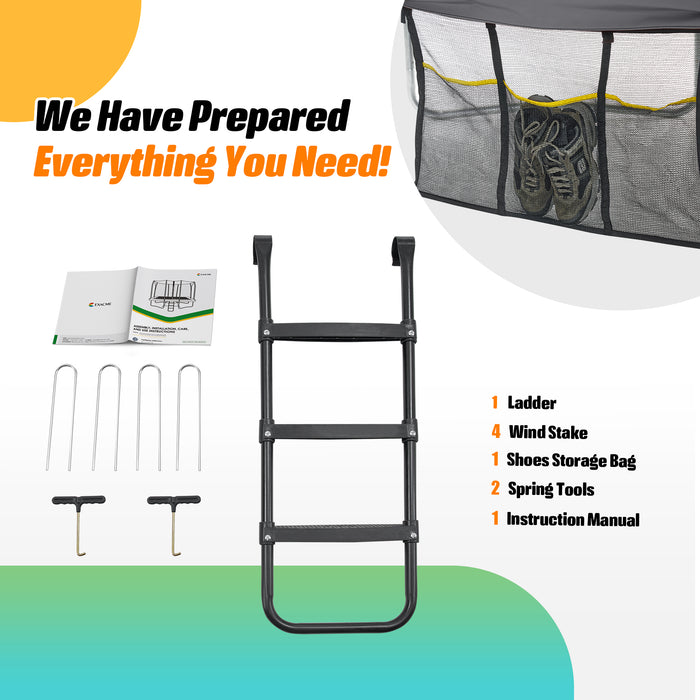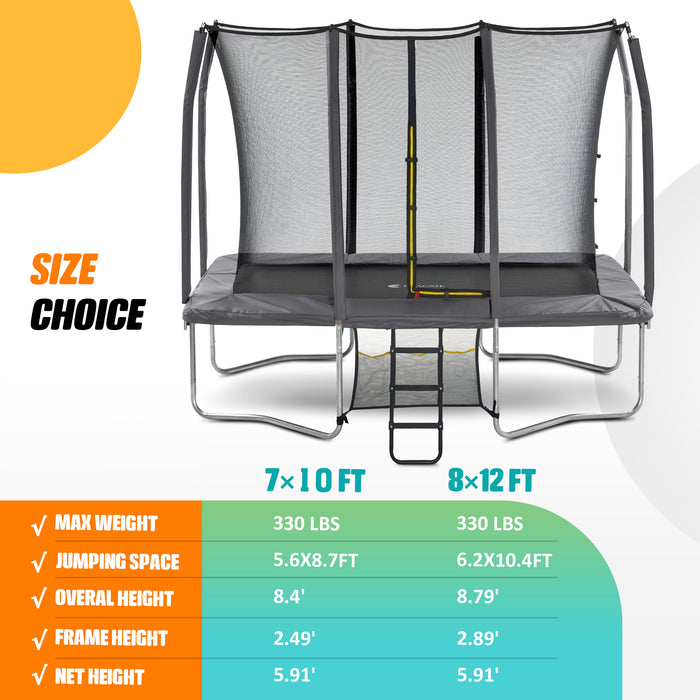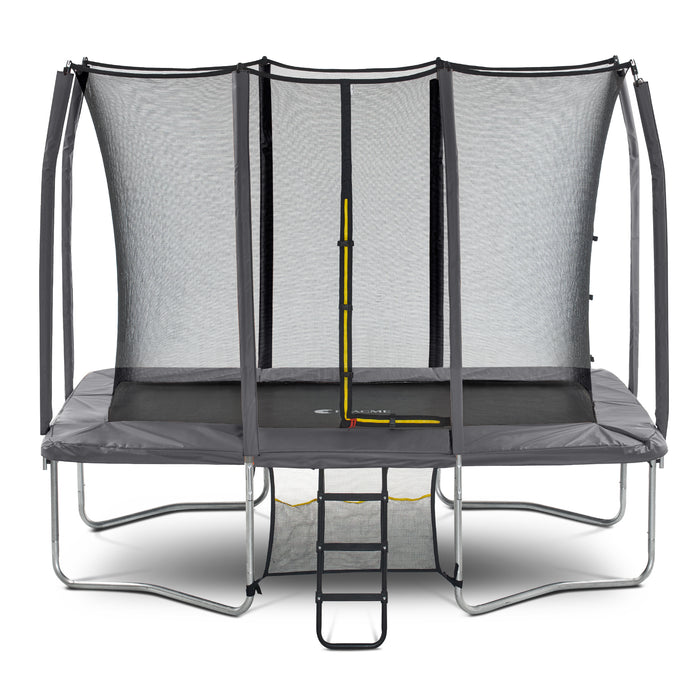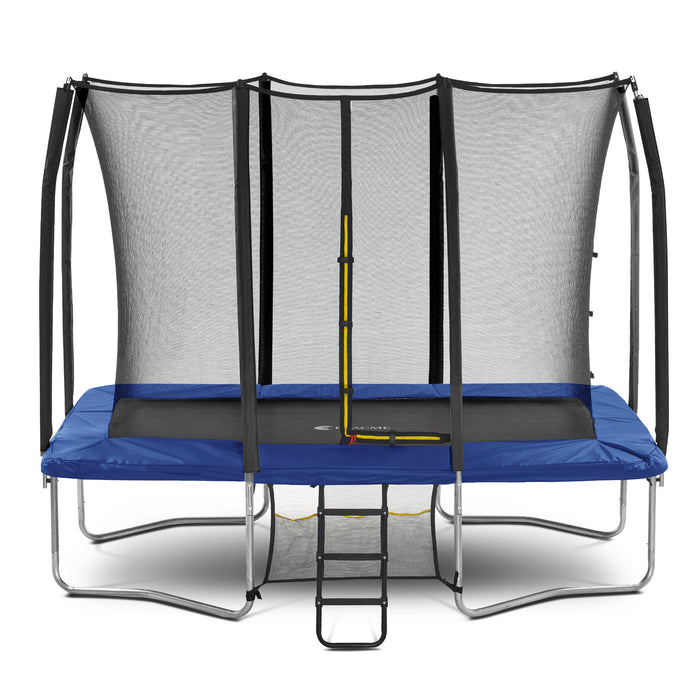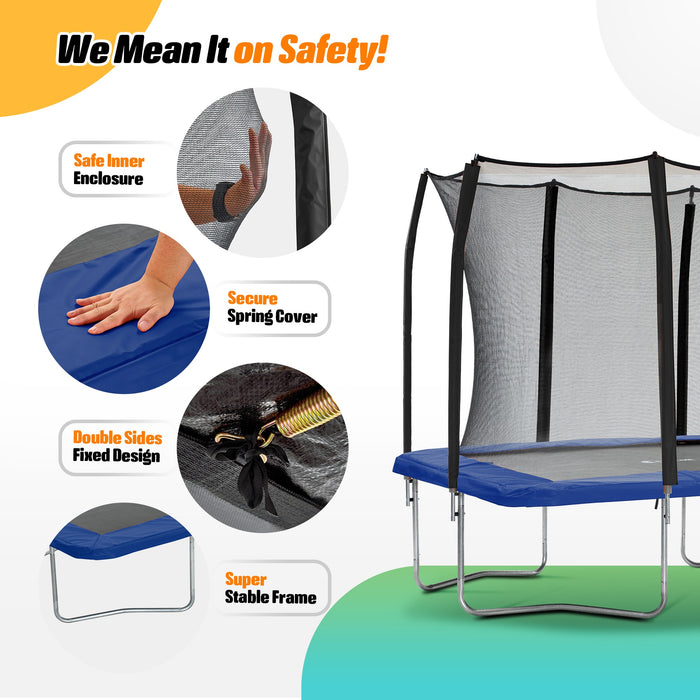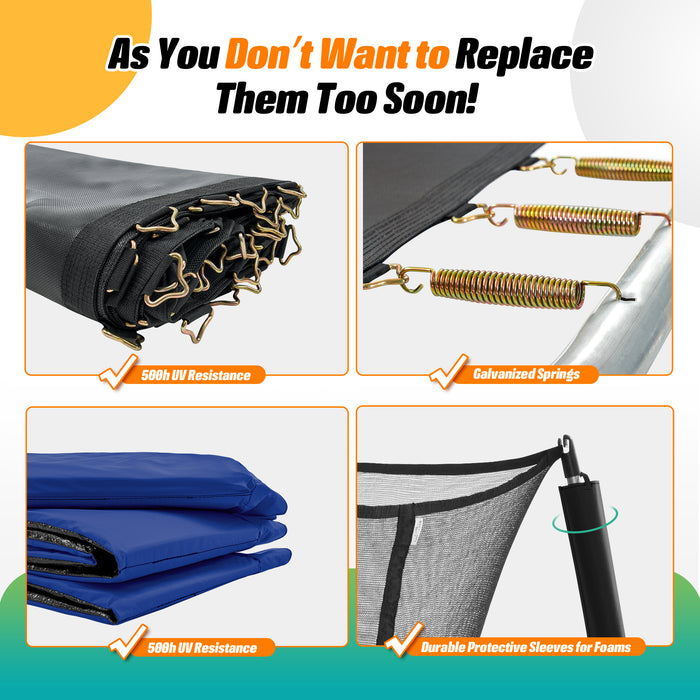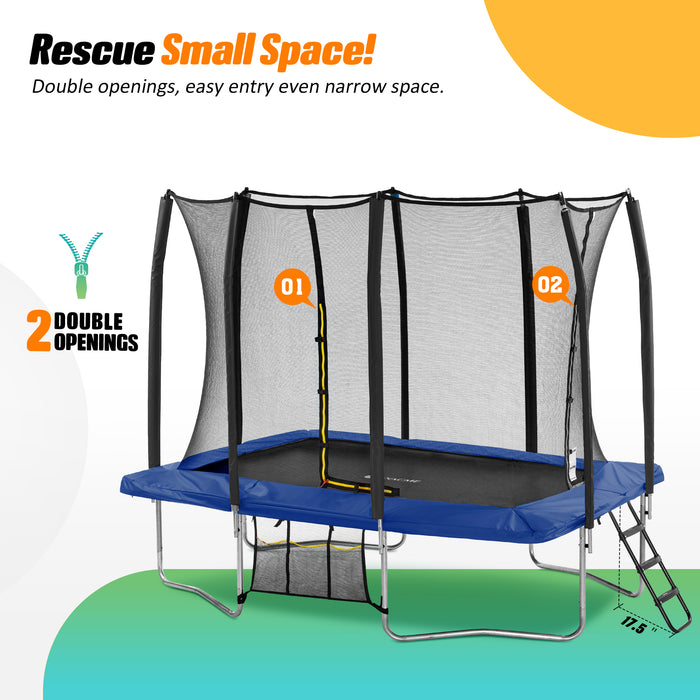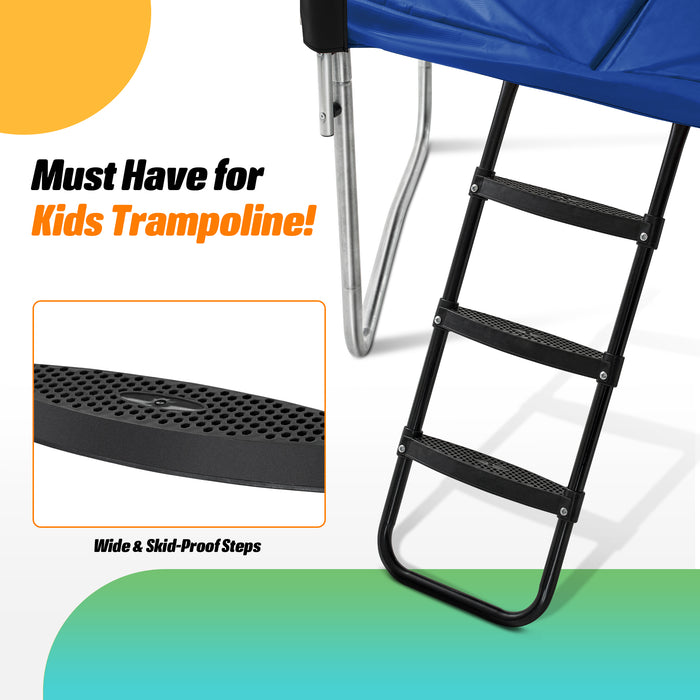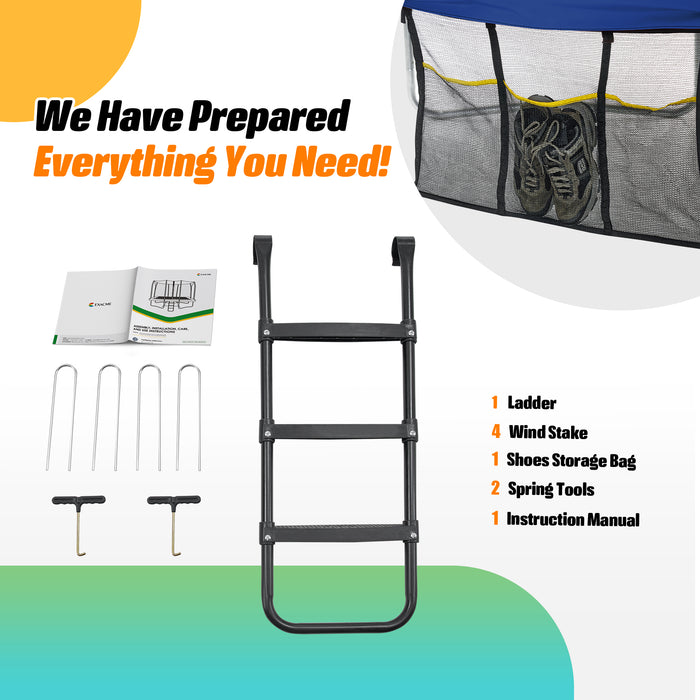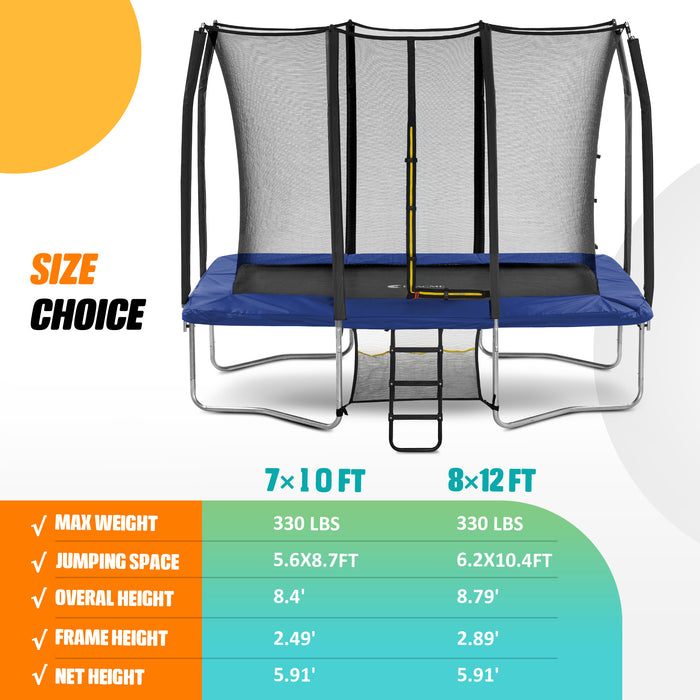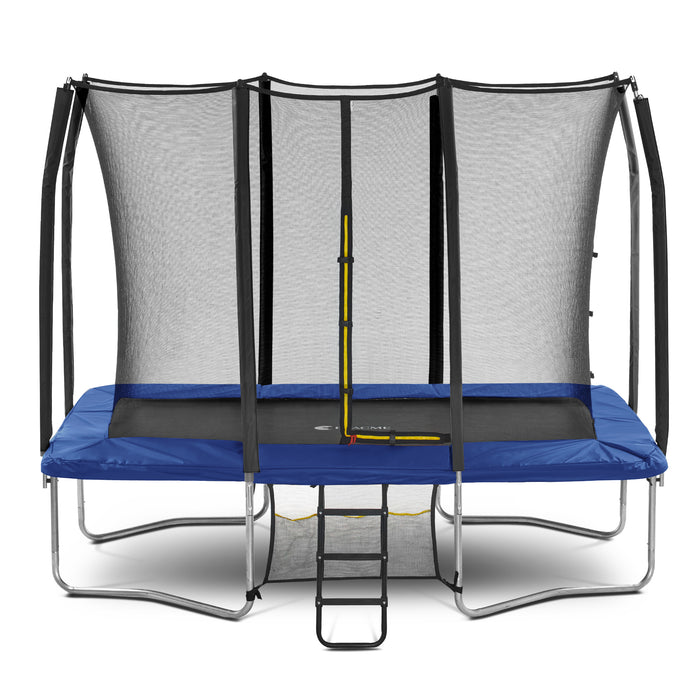 Exacme 7X10FT 8X12FT Double Enclosure Openings Rectangle Trampoline for Kids, Small Outdoor Rectangular Trampoline with Enclosure Net, Wide Ladder, 4 Wind Stakes, Shoe Storage Bag, 330LB Capacity
Features
✅ [Steady Frame & Multi Safety Measures]: ExacMe Rectangle Trampoline meets or exceeds all standards of American Society of Testing Materials (ASTMF381-16 + ASTMF225-15). The frame is made by heavy duty galvanized steel, it will provide you with high confidence when you are jumping. The design of inner enclosure leaves enough space from net to poles to avoid collision when kids fall and it will also prevent kids' feet from stepping onto the springs
✅ [Durable Material & Weather Resistance]: We want to company with your kids to grow up. Heavy duty Galvanized frame with hot-dip galvanized springs is hard to rust and deformation, it will provide lasting smooth experience of jumping. When you using the recreational trampoline, we never allow your trampoline become ugly. It will keep bright color due to the test of 500 hours of sun protection. The sleeves for poles will also avoid foam degeneration to support your trampoline better
✅ [Double Openings & Break Space Limitation]: Different from the other rectangular trampolines, we add openings on both long side and short side for the outdoor trampoline, which can help you enter it from different directions easily. Thanks to that, you do not need to choose a smaller round trampoline bed due to the space of unequal length. That's our pursuit to giving your child as much room as possible to enjoy childhood
✅ [More Springs & Larger Valid Jumping Space]: The springs work independently on trampoline rectangular, which means you can get best bounce on every spot without any dead spots rather than only getting the best bounce on the central point of a round trampoline. Therefore, you can obtain larger jumping space easily without extending size of trampoline. What's more, this rectangle trampoline has more springs which will provide higher bounce compared to perform difficult skills to other trampolines
✅ [Full Accessories & Assemble and Enjoy It]: The trampoline comes with three boxes. It has been equipped with all tools and attachments you need. You don't want your hands hurt or your trampoline to visit your neighbors, right? Therefore, 2 spring tools and 4 wind stakes are prepared to eliminate your worries. What's more, wide and skid-proof steps ladder will protect your kids from feet hurt. You don't have to bear throwed shoes everywhere as we have prepared trampoline shoe bag for you
✅ [Multi Choice & Meet Your Needs]: This trampoline comes in warm orange, cool blue and sedate gray. Whether you're looking for a coolness on a hot summer day, or the warmth feeling at sunset, even you plan to train the calmness of your child, we can always satisfy you. Also, we provide two sizes of 7×10 feet and 8×12 feet for you. It will become a natural corner of your backyard
✅ [Excellent Customer Service & Eliminate Your Worries]: It is our common expectations to let this trampoline company with your kids' childhood. Therefore, we provide three years limited warranty for top rails, one year for safety net, spring cover and jumping mat. We have warehouses on California, Delaware and Tennessee to provide timely customer support service for you. Any question will be answered within 24 hours
Why Choose ExacMe Rectangle Trampoline with Two Openings?
Just like you need to accumulate wealth from increasing income and decreasing expenditure, we can consider getting a large jumping space from trampoline size and utilize of the jumping mat.

✅You don't have to compromise space by choosing a smaller trampoline as a rectangular trampoline is a perfect choice for irregular space.
✅The double openings intensify the advantage of saving space. You can entry your playground easily from short edge instead of sighing in front of the net.
✅Springs on the rectangle trampoline can work independently to active every jumping spot while bounce will be reduced from central to edge on a round trampoline.
What Makes ExacMe Trampoline?
Our trampoline has passed and exceed ASTMF381-16 and ASTMF225-15 testing.
✅Frame: Heavy duty galvanized frame to support 330 LBS
✅Spring Cover: Keep bright color with 500 H UV test
✅Sleeves: Sleeves on net poles to prevent pole foams from tearing.
Specification
Size: 7x10 feet / 8x12 feet
Jumping Space: 5.6x8.7 FT / 6.2x10.4 FT
Trampoline Height: 8.4 FT / 8.79 FT
Ladder Distance to the Trampoline Frame: 5.91 Inches
Max Capacity: 330 LBS
What's in the box?

1 × Trampoline
1 × Ladder

1 × Storage Bag
2 × Spring Tools
4 × Anchors
1 × Instruction Manual