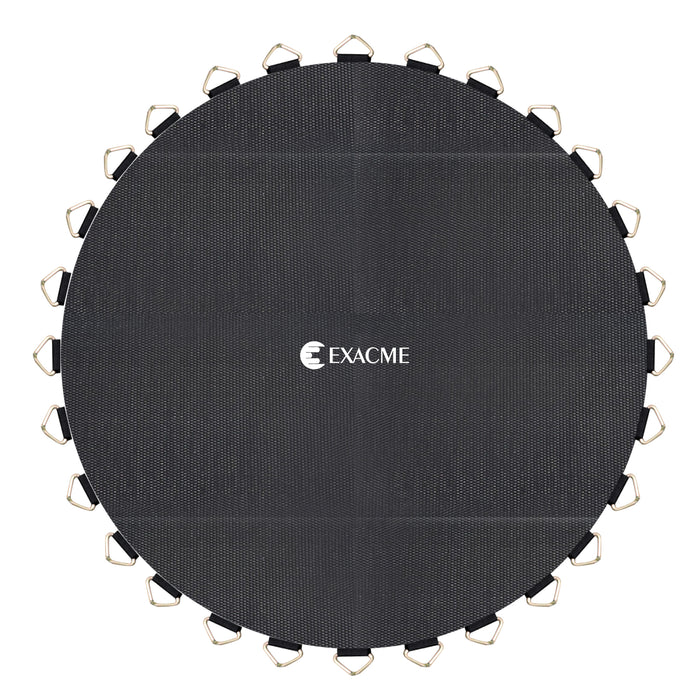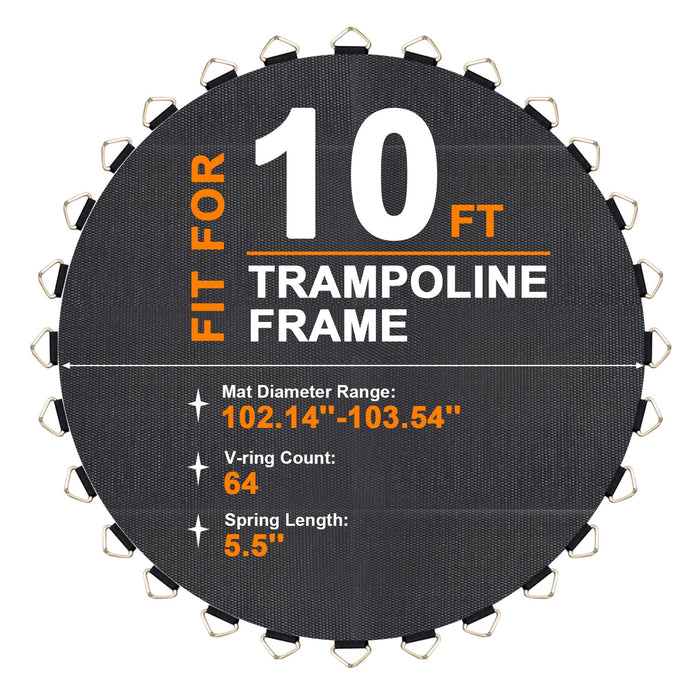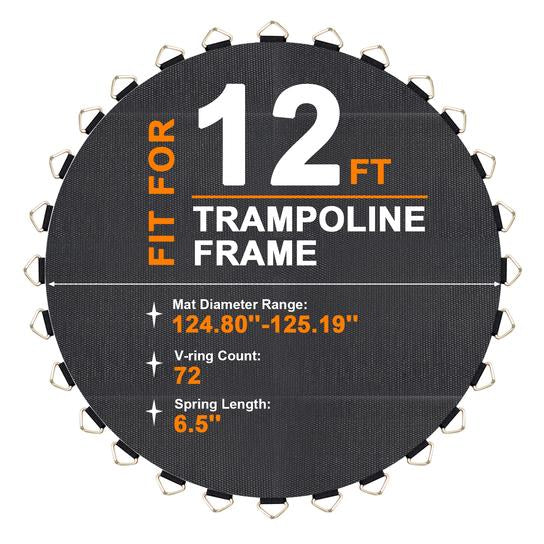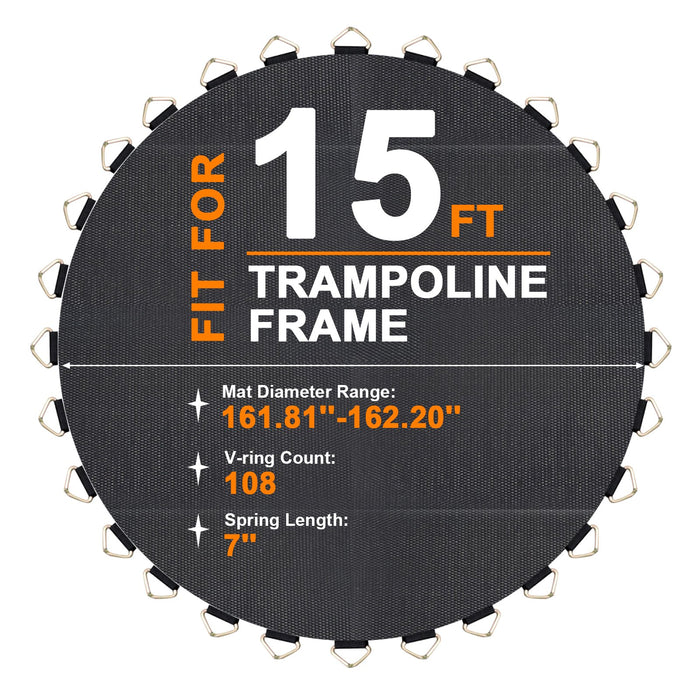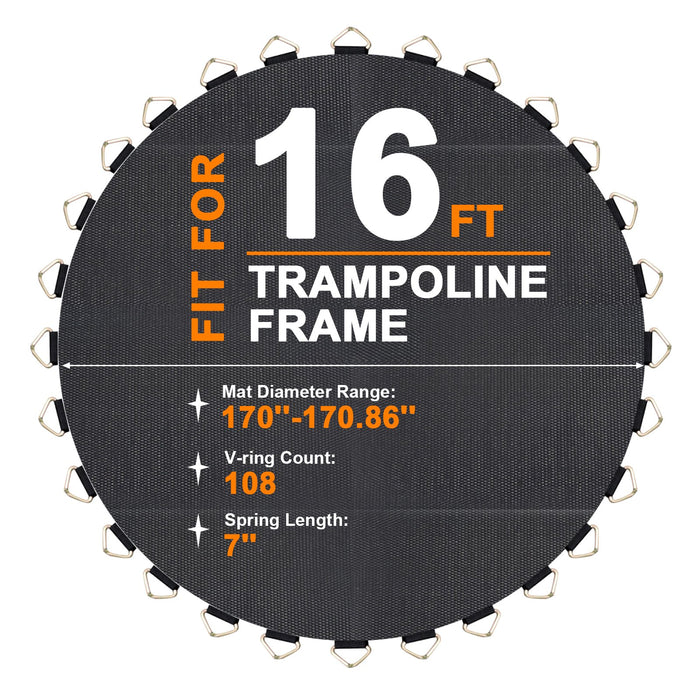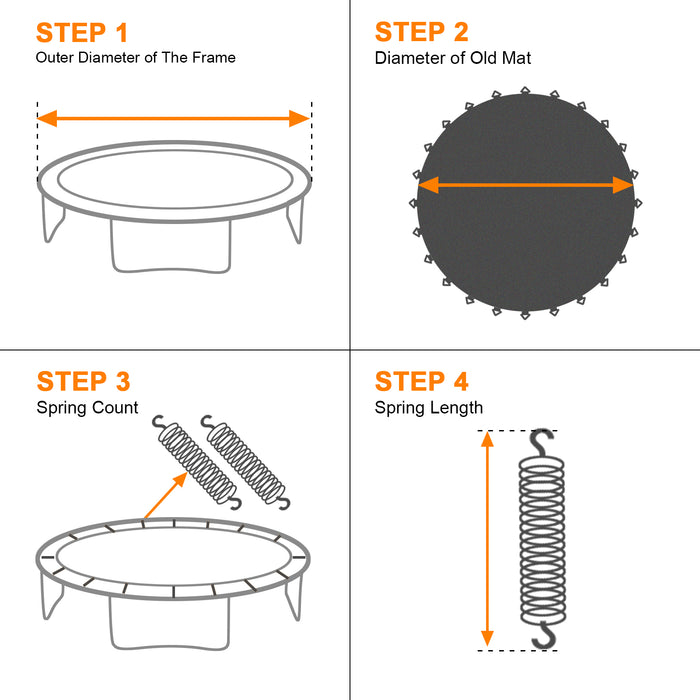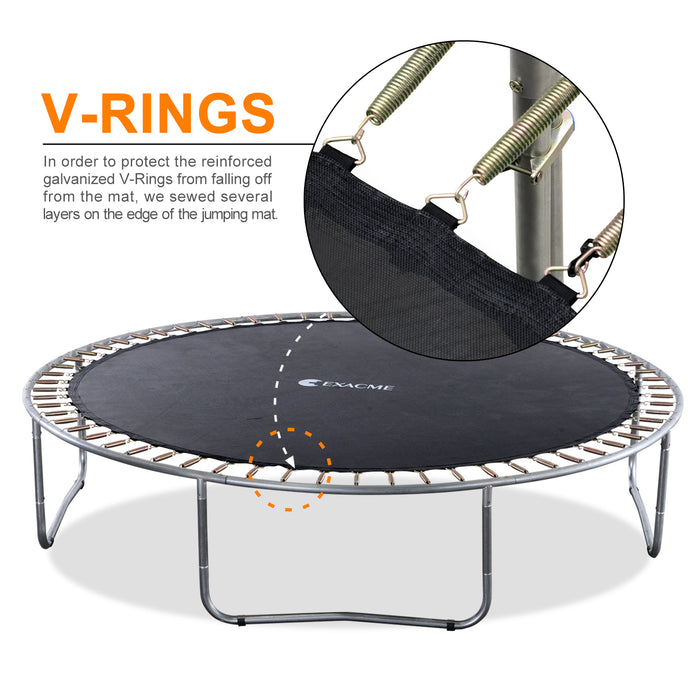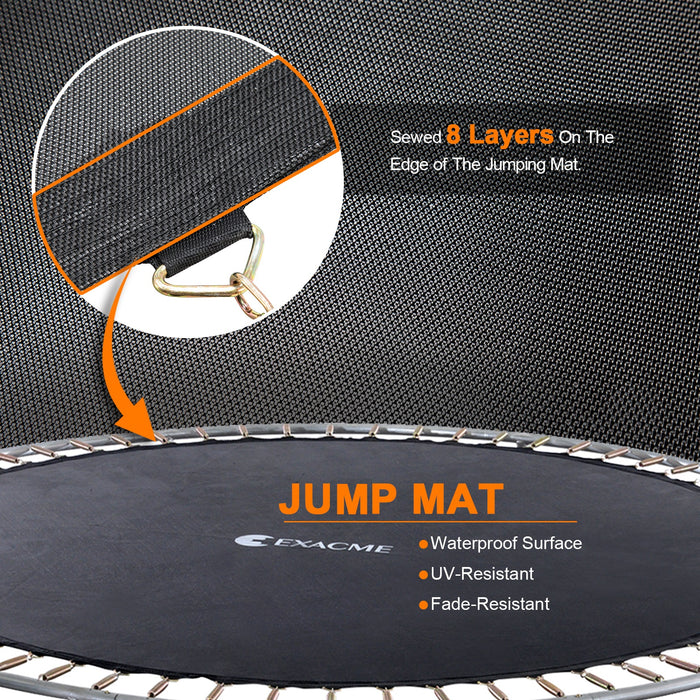 ExacMe Jumping Mat Replacement for 10 12 14 15 16ft C-series Trampoline, 6181-C-JM
Note:  that jumping mat is sold separately, spring not included. 

This premium jumping mat is to fit your 10 ft, 12ft, 14ft, 15ft, 16ft-framed ExacMe C-series innter trampoline. It does not fit if the spring numbers and size are not match with what we listed.
It continues to offer ultimate bouncing enjoyment even if your original mat has worn out and accomplished its mission through years of jumping practice, at a fraction of the cost of a new trampoline.
Specification:
Fit: Round Trampoline with spring holes & springs
Material: Tensile Polypropylene with Carbon Coated for Ultimate Rebounding Experience
Durability: Waterproof Surface, UV-Resistant and Fade-Resistant
V-Rings: Reinforced Galvanized V-Rings Sewn into the Mat for Extra Strength
How to choose the correct jumping mat?

To find your mat, select your specific size based on the
Outside diameter of your trampoline's steel frame: Measure in at least 2 different places when it is fully assembled.
Amount of total v-rings or springs;
Unstretched length of your springs from hook end to hook end: it is important that they are off the trampoline, completely unstretched, and measured from the end of one hook to the other.
Diameter of your old jumping mat: Check from the edge fabric excluding the V-rings when it is fully extended.
Size Details:

      Note: the mat is smaller than the frame.
Mat Size:
     10 ft trampoline:103.6" Mat Diam (8.64 ft mat)
     12 ft trampoline:

124.8" Mat Diam (10.4 ft mat)

     14 ft trampoline:

150" Mat Diam (12.5 ft mat)

     15 ft trampoline:

162" Mat Diam (13.3 ft mat)

     16 ft trampoline:170.4" Mat Diam (14.2 ft mat)

Fit for Spring:   

     10 ft  (5.5'' long   64 springs)

     12 ft  (6.5'' long   72 springs)

     14 ft  (6.5'' long   88 springs)

     15 ft  (7'' long    108 springs)

     16 ft  (7'' long    108 springs)
Warranty:
Package Content:
1 x Round Trampoline Mat(Spring are not included)