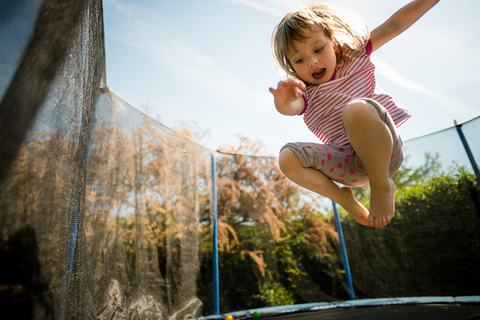 What are the benefits of trampoline entertainment for your child's growth?
1. Child Development
Regardless of how it is being used, the outdoor trampoline for kids helps stimulate healthy brain functions that ultimately contribute to visual-motor and auditory-motor skill development. While gently bouncing or jumping on the trampoline, your kid(s) develop a sense of awareness of their body and surrounding environment.
2. Vestibular Stimulation
The vestibular system lodged in the inner ear controls our sense of movement and balance. Bouncing on the outdoor trampoline will train the vestibular system to grow aware of any motion within space and help your child develop a sense of balance.
3. Improved Kinesthetic Awareness
Kinesthetic awareness refers to the perception of body movements in space through sensations in the body (mainly the muscles and joints) rather than visual feedback. While navigating through space on the kids' outdoor trampoline, a stronger connection will be established between your child's brain and body, making them more conscious of their body's movements.
4.Good Body Awareness
Using the outdoor trampoline will increase your child's understanding of their body parts, where they are located, how they move and interact with objects.
Spatial awareness is an essential skill children must develop at an early age, and what better way to teach it than a toy that encourages free movement and physical exploration. The kids' outdoor trampoline will help your child learn about their body's position, the position of objects around them, and how they can move to interact with the objects.
5.Sensory Integration
The kids' outdoor trampoline allows children to interact with multiple stimuli at the same time. Processing multiple stimuli simultaneously will encourage their brain to organize incoming messages and integrate the body's systems to respond appropriately and quickly.
6.Motor Skills, Coordination, and Balance
Jumping on the kids' outdoor trampoline creates a constantly changing center of gravity. Your baby will learn to sense these gravitational shifts and respond accordingly by adjusting their positions. The balance, timing, agility, and rhythm developed during these movements will help improve overall coordination and support the development of their motor skills.
How to keep your children away from electronic products and out of the house?
What parent doesn't love activities that keep their kids active and engaged? However, with the popularity of smartphones, tablets, and video games, it can sometimes be a battle to get your children off the couch. Investing in a kids' trampoline is an easy way to help your children stay fit, have fun, and cut down on screen time.

Trampolines for kids are just like any standard trampoline, but they're designed specifically with younger users in mind. These smaller trampolines are outfitted with safety features to keep children from injuring themselves. If you've thought about buying a trampoline for your family, but you're unsure about the safety aspects, a trampoline designed for kids can give you peace of mind and still provide plenty of good times for your children.

Fortunately, our helpful shopping guide is here to help. It has all the tips you need to find the perfect kids' trampoline. If you're still unsure, please contact us for more suggests.
The Health Benefits of a Kids outdoor Trampoline.
We've all watched wildlife documentaries starring lion cubs, where the narrator explains how they develop vital hunting skills through fun and games like playing hide and seek and wrestling each other. Well, kids function just the same way — Game activity plays a principal role in their overall development.
According to a NASA study, ten minutes of trampolining is a more effective workout than thirty minutes of running. NASA discovered that trampolining boosts blood circulation, supports bone health, improves digestion, stimulates internal organ function, promotes lymphatic activity, and strengthens the immune system.
By improving blood circulation, trampolining ensures that more oxygen is transported to the brain, increasing your child's alertness, creativity, and concentration. The increased oxygen circulation also stimulates the release of endorphins, neurotransmitters that help reduce stress and anxiety and promote happiness.
Parents can participate in children's sporting.
While your children are perfectly content just jumping and chasing each other for hours on the trampoline, it is also fun to see their imagination and creativity when it comes to playing trampoline games and making up new challenges. The best part of watching them is seeing their imagination come to life when they create new games or new ways to play classic games.
The fun doesn't stop on the trampoline, nor does it have to be just for kids. There are a lot of fun games that kids can plan and the parents can join in on from outside the trampoline. Or, if you really want to make your kids' day, get on there and play with them! We hope you and the whole family have fun enjoying all these trampoline games and activities.